| | |
| --- | --- |
| News from Alinco - The Alinco DR-MD500T Dual Band DMR Mobile Radio | 04-10-2021 |
New from Alinco is the DR-MD500T, then dual band DMR mobile version of their popular dual band DMR HT.
DR-MD500T Dual Band Mobile DMR VHF/UHF Portable Radio
Alinco DR-MD500T Advanced Dual Band VHF/UHF DMR Part 90 Mobile Transceivers add to its existing line-up of Digital Commercial/Business or Amateur Radio products. The DR-MD500T has features such as Color LCD Display, 55W Output Power on VHF, and 40W on UHF, as well as up to 4,000 Memory Channels, 10,000 TalkGroup, and up to 300,000 contact lists. Capable of operating in digital and analog with mixed mode in VFO or Memory mode.

The DR-MD500T utilizes DVSI's AMBE+2 vocoder for crystal clear DMR digital audio for use in noisy environments like construction sites, parks, security applications, or your favorite repeaters coverage area with no noise or fading even in low lying areas. The DR-MD500T has powerful 2W audio output power to ensure loud crisp receive audio.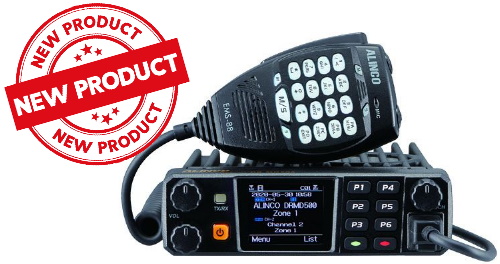 Alinco DR-MD500T features:

* DMR Tier I and Tier II
* MAX output power 55 watt (VHF)/40 watt (UHF)
* 4,000 channels, 250 zones, 250 scan lists
* 300,000 digital contact list
* Large 1.77 in. LCD display
* Automatic Repeater Roaming
* Single or dual channel selectable
* Displays DMR ID, Call sign, Name
* X-band repeat, analog uplink/digital downlink or vice versa
* FM Broadcasting receiver with 100 memory channels and VFO
* AES 256bit Encryption (digital mode)
* SMS (digital mode)
* Communication recording (digital mode)
* Individual/Group/All call (digital mode)
* CTCSS/DCS/DTMF/2Tone/5Tone encode and decode (analog mode)
* Allows CSV export/import of setting parameters
* Programmable Auto Repeater Shift in VFO mode
* Kill and Stun functions
* VFO/MR switch
* FCC Part 90 certified
---
HAM RADIO | CB RADIO | AMATEURFUNK | CB FUNK | PMR FUNK | FREENET FUNK | FUNKAMATEUR | AMATEUR RADIO | FUNKTECHNIK | ATV | SSTV | FUNK VERBINDET | SDR | CB Funk Magazin | Funk News | CB Funk Antenne | Amateurfunk Antenne | Mikrofon | Funk Zubehör | CB FUNK CLUB